Europe

/

Study Abroad in France
September 25, 2023
If you're pondering the idea of studying abroad in France, our directory is your essential companion, meticulously crafted to unveil programs that align seamlessly with your academic aspirations and personal interests. Located in the heart of Western Europe, France stands out as a prime choice for American university students, with approximately 17,000 embarking on its shores each year. With its unparalleled culture, profound history, groundbreaking artistic movements, and iconic landmarks like the Eiffel Tower and the Louvre, France unfurls a canvas of experiences — from savoring world-class wines in Bordeaux to engaging in philosophical discourses reminiscent of thinkers like Voltaire and Rousseau.
With a population exceeding 67 million, France is a symphony of varied regional identities, each boasting its own unique flavor. From the glamorous sun-kissed Riviera in the south to the pastoral serenity of Normandy in the north; from the cosmopolitan dynamism of Paris, the City of Lights, to the rustic charm of the Dordogne, France offers a captivating blend of languages, traditions, and gastronomies.
Paris, the heartbeat of France, is a metropolis that seamlessly merges its illustrious past with a pulsating present. Beyond the allure of its world-famous museums and gothic cathedrals, the country is studded with treasures — be it the resplendent chateaux of the Loire Valley, the lavender fields of Provence, or the snow-kissed peaks of the Alps. Not to forget, the Côte d'Azur beckons with its azure waters and glitzy resorts.
France's enchantment is not solely anchored in its academic institutions. As you chart your academic voyage, France invites you to a realm steeped in architectural wonders, cinematic innovations, and an illustrious lineage of art and literature. The country's amalgamation of its rich heritage with contemporary vigor provides an immersive and kaleidoscopic backdrop for student explorers.
Our directory presents a diverse palette of study abroad avenues in France — from distinguished university programs to enriching internships and cultural exchange endeavors. Navigate through genuine student testimonials, analyze ratings, and sift through myriad programmatic options to commence your French escapade! Whether you're envisioning a brief summer sojourn or an extended semester- or year-long engagement, our directory is primed to facilitate your decision-making. Dive deep into France's intricate tapestry of culture and innovation, elevate your academic journey, and etch memories that will transcend time.
For an all-encompassing guide on journeying through France, delve into the Official France Tourism Website.
Explore the Map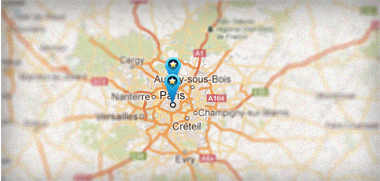 Study Abroad in France - Featured Programs
EF - LEARN A LANGUAGE ABROAD
See the world, experience a new culture, make friends from 100 countries – and prepare for your global future.  Start any Monday and stu...
Featured Program
Study Abroad in France - All Programs