Israel

/

Hebrew University of Jerusalem - Rothberg International School: Summer and Special Programs
Hebrew University of Jerusalem - Rothberg International School: Summer and Special Programs
75 reviews
for
16 programs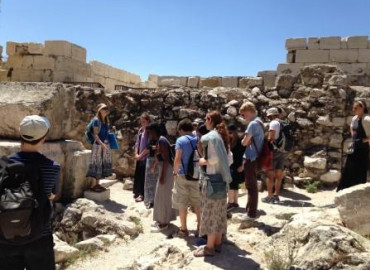 Request Info
(For American Students)
Or Register With Facebook
It will help you track your requests and only takes a second.
x
Your inquiry has been sent!
You might also be interested in these other programs.
Check the boxes to inquire.
Submit Request
The Department of Summer Courses and Special Programs at the Rothberg International School (RIS) at Hebrew University, which is ranked among the world's top 100 universities, offers a wide array of short-term courses and programs throughout the ye... read more
All Reviews
OVERALL RATING

4.8

Based on

2

Reviews

| | |
| --- | --- |
| Cost of Living | |
| Admin | |
| Social/Cultural | |
| Food | |
| Housing | |
| Academics | |

Overall Experience
I gained an insight into what I would like to do with my future career, and found a place I would like to call home someday. In my opinion, any travel experience is worthwhile, good or bad, and Israel is always a definite good.

A student

- University of Wisconsin - Green Bay View Entire Review
About
The Department of Summer Courses and Special Programs at the Rothberg International School (RIS) at Hebrew University, which is ranked among the world's top 100 universities, offers a wide array of short-term courses and programs throughout the year. You can choose courses from our July, August, and winter sessions, as well as elect to take language courses or participate in archaeological field schools. We also work directly with faculty and study abroad offices in developing faculty-led and other customized programs. 

With decades of experience hosting enthusiastic learners from around the world, RIS can help you make the most of your short time in Israel and dive into your area of study in a whole new way.

Special Programs
Special programs are uniquely tailored to your field and specific needs and requests. They vary in length and intensity, and usually combine classroom lectures, interactive seminars, and study trips throughout Israel.

Trauma & Resilience: Theory & Practice from the Israeli Experience - This program provides you with a broad picture of the latest developments in the trauma field, contextualized by the Israeli experience. Together, we will focus on the consequences of and coping with psychological trauma; theoretical concepts and applications of resilience; community preparedness for terrorism and disaster; developmental and gender aspects of children and trauma; and clinical interventions.

International Summer Program in Economics Education (ISEE) - This program, designed for advanced economics students, offers you an intensive preparation in key topics in economics and finance to help you prepare for graduate studies in the US and Europe. You will advance your knowledge of economics and research skills and learn how to prepare for application to the best universities around the world. You'll learn from top Hebrew University faculty members and teaching assistants who can support you in developing a competitive application package to leading graduate programs. (ISEE is only available during the summer).

Transdisciplinary Innovation Program (TIP) - TIP is a new, cutting-edge international program that provides an intense educational experience integrating computer vision, big data/cyber, and bioengineering. It's an unprecedented opportunity for you to develop your ideas in some of today's most important areas of technological innovation.

Summer Science Internship Program - This summer internship program offers senior undergraduate or graduate students the opportunity to gain in-depth research experience in a wide variety of scientific fields while earning academic credit. As a participant in the program, you will work in state-of-the-art laboratories under the guidance of internationally respected Hebrew University scientists.

Biblical Hebrew - This intensive and engaging program offers an eye-opening approach to understanding textual and historical issues of Biblical Hebrew, while also building your vocabulary and grammatical understanding of concrete Biblical texts. You'll study with some of the foremost experts in Biblical Hebrew.

Summer Sessions
Summer abroad courses are designed for undergraduate and graduate students as well as mature learners with academic backgrounds. These courses go beyond the classroom. You'll join students from more than 70 countries around the world and enjoy a summer schedule packed with enriching seminars, fun activities, and local trips designed to help you explore Israel's geographic and cultural landscape.

We have two summer sessions to suit your needs: a four-week July session and a two-week August session. If you want to get the most of your summer, you can combine courses from both sessions. All summer courses at HebrewU's RIS are accredited and taught in English.

Winter Session
A number of short-term courses in December and January are open to those who need a break from the cold winter climates of the North or for students from the South who are on summer break. You can take these two- to three-week courses for credit and experience Israel on the ground and at its greenest

Program Type(s):
Study Abroad
Internship
Program Length(s):
Instruction Language(s):
Relevant Study Subject(s):
Middle/Near Eastern Languages, Literature
Hebrew Language, Literature
Economics
Year Founded:
1918
Website
Take me there!
Direct Enrollment/Exchange Scholarships